Bed and breakfast Provence: wellness and charm first and foremost
From the Verdon gorges to the Pont du Gard, via Aix-en-Provence, Cassis, Marseille, Arles or Nimes, Avignon, L'Isle-sur-la-Sorgue, there are many sites to see when coming to Les Baux-de-Provence and St-Rémy-de-Provence. Not only for the tourist who has travelled hundreds of kilometres to immerse himself in the scenery of Pagnol or Van Gogh. But also for all the curious people in the surrounding area who are unaware of the riches of St Rémy and Les Baux.
For a break of a day or two, or more, the two villages of the Bouches du Rhône, mythical in many ways, are the perfect places to marvel in family, as a couple or with friends.
And in a "country" as unique as this one, Sarah and Marc wanted to create an atmosphere as high as what the region can offer us: wonder, softness, colours, well-being, nature… This is what you can expect from a bed and breakfast in Provence: to be immersed in the vibrations of this sunny territory where rurality, traditions and beauty are fabulously combined. A real charming hotel in Saint-Rémy-de-Provence, which nevertheless totally frees itself from the strict rules of the hotel business, for a warm welcome, all in simplicity.

B&B since 2015
And for a successful stay, you who may be looking for a gite in Provence, a guest house or a hotel, why not stay at the bed and breakfast of St Rémy de Provence, M&S?
After opening its doors to the very first visitors in 2015 (Quebecers and Australians, for the little story Marc will tell you), the B&B St Remois de Marc et Sarah is today the favorite place of many travelers wishing to explore Provence. French and foreigners come here, often to seek the authenticity of its hosts.
Two regional people of the stage, true lovers of St-Rémy and its prestigious neighbour, the Baux-de-Provence.
A bed and breakfast between St Rémy and les Baux de Provence
"Charming Bed and Breakfast": this is a concept that Sarah and Marc have been able to take to the letter during the work undertaken year after year.
When Marc took possession of the farmhouse, he inherited a volume and a space that allowed him to give free rein to his desires for transformations. Especially in the garden, where Mediterranean shrubs and flowers are growing alongside the natural and overflowing swimming pool. But it is also thanks to Sarah's imagination and talent that the couple has been able to make this house a bed and breakfast totally out of the ordinary.
A B&B hotel in the heart of Provence that will allow you, in only 15 minutes by car, to be at the top of the Alpilles natural park. Then, passing by the castle of Baux-de-Provence, you can reach the Camargue in less than an hour, through whole hectares of vineyards and olive trees.
And when you say bed and breakfast, you obviously mean room. But not only because Marc and Sarah also make table d'hôtes in Saint-Rémy-de-Provence. Its walls have known so many convivial moments during the previous decades, it would be a shame not to be imbued with them: so don't hesitate to share an excellent meal straight out of Marc's overflowing imagination!
Cottage Saint Rémy de Provence : 5 unique bedrooms
Looking for a gite in Saint Rémy de Provence that is out of the ordinary? A bed & breakfast that will take your breath away in terms of decoration, while offering you beautiful moments around a succulent table d'hôte? Between loft with industrial decoration, loft and mas provençal, the charming hotel st rémois de M&S is a place that leaves no one indifferent.
Bought in the 1920s by Marc Féraud's family, the place has since lived many lives. Until the year 2015, when it will be nearly a hundred years old after joining the family, it has again undergone several transformations to become a bed and breakfast in the presence of the guests and a holiday home in the summer (in the absence of the guests).
The M&S guest rooms, located in the residential area "Sans Souci", are 200 meters from the historic heart of Saint-Rémy-de-Provence. The property is a large house with a warm atmosphere. It has a beautiful outdoor space with different terraces, on which everyone can enjoy the view:
basking,
relax,
reading,
sunbathe
swimming …
The minimalist garden is imbued with aromatic scents. The biological swimming pool is oxygenated by waterfalls that emerge from an aquatic garden.
Once a family home, what is now a gite in St Rémy de Provence, has gradually seen its offer develop. And its envelope is changing. With time and encounters. Because initially, the b&b had no ambition to become this place that would welcome "foreigners" all year round. But the couple, so hospitable at heart, ended up opening a guest room. Then 2. Then 3!
Guest rooms with singular atmospheres:
Terrace,
View on swimming pool and opening on the garden.
Bathroom integrated and in waxed concrete.
Italian shower.
Exceptional bedding.
Storage to feel at home for a few days…
It's up to you to go there to discover the big and small secrets of the room you've booked!
B&B: have dinner and lunch with your hosts!
The happiness of being able to stay at Marc and Sarah's St-Rémy-de-Provence bed and breakfast is also to eat there. And it starts with a homemade breakfast, with many local or homemade products, by Marc himself :
choice of teas,
ground coffee on the spot espresso and filter of your choice,
Minute squeezed orange juice,
organic bread kneaded the day before and baked each morning by
the master of the place, MARC,
homemade and/or regional jams,
honey from the Alpilles…
But that's not all. For an extra 40€ per person, the B&B st rémois also opens its table d'hôte for dinner. The opportunity once again to spend a moment full of sharing with the couple and their many stories.
Often Sarah is at the cocktail design stage. While Marc, on his peregrinations to the markets of Saint-Rémy-de-Provence, will take care of the meal. Starter, main course, cheese, dessert. All accompanied by local wines and inspirations sometimes straight from exotic countries…
With the overflowing conviviality that characterizes them, the couple offers you hospitality and availability to rest in their bed & breakfast. Marc and Sarah are always ready to help you discover Saint Rémy de Provence, the Alpilles, the Baux de Provence, the Luberon…the whole region by showing you the best paths, routes and itineraries!

Réservation
Find our availabilities, our rates, and our special offers, in the Réservation.menu.
We guarantee you the best rates and the most advantageous conditions by booking directly on our website!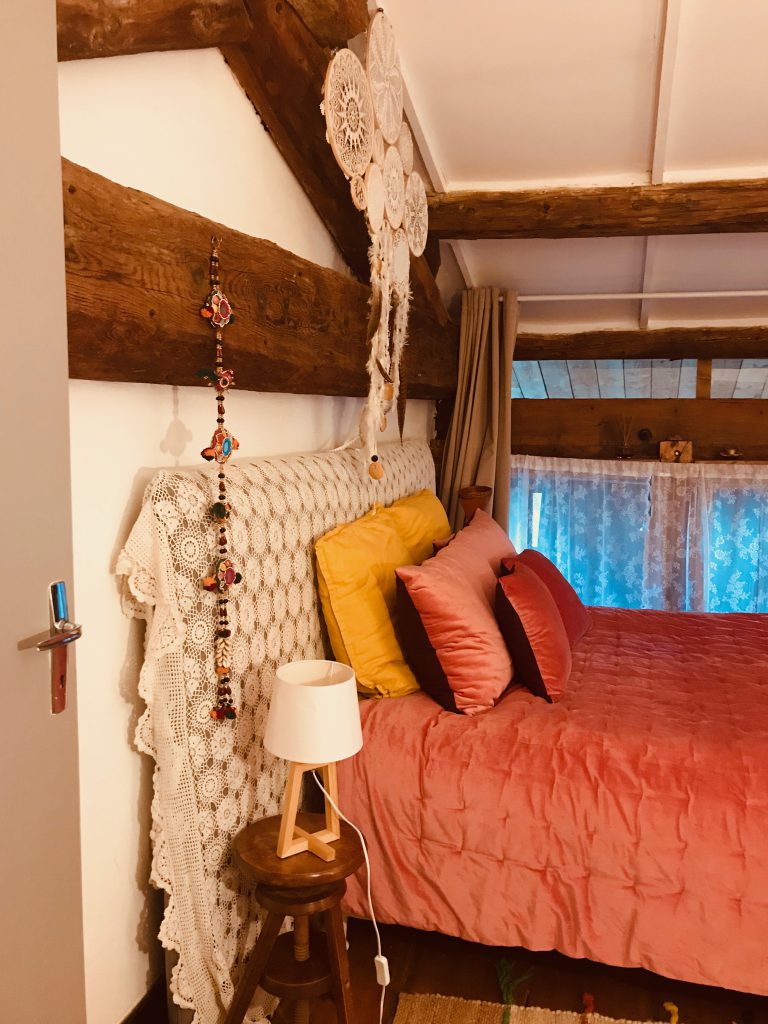 Informations
Arrival: room available from 5pm.
Departure: room vacated no later than 11 am
Private parking space
Table d'hôtes only on reservation
Breakfast at your own time: choice of teas, coffee, freshly squeezed orange juice, homemade bread, butter, jams, …
It is not allowed to eat on one's own, anywhere in the room, the house, the garden and on the terraces.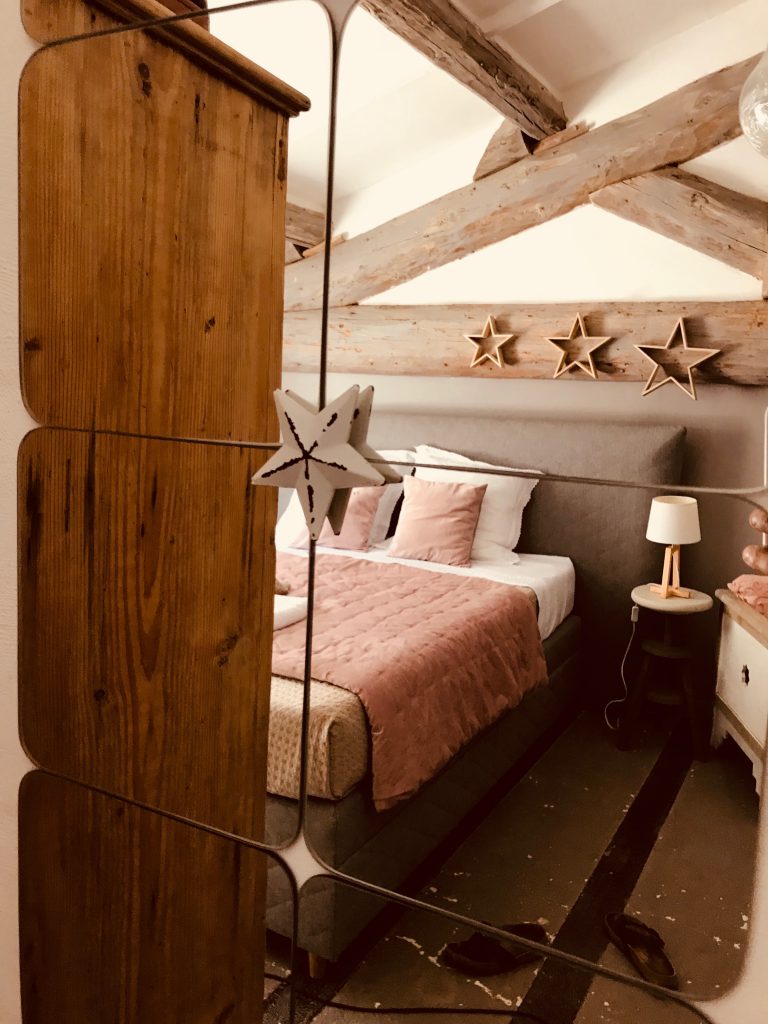 Equipments
We provide a Wi-Fi connection in each room. All our bathrooms are equipped with a hairdryer and 100% organic welcome products.
All our rooms are non-smoking