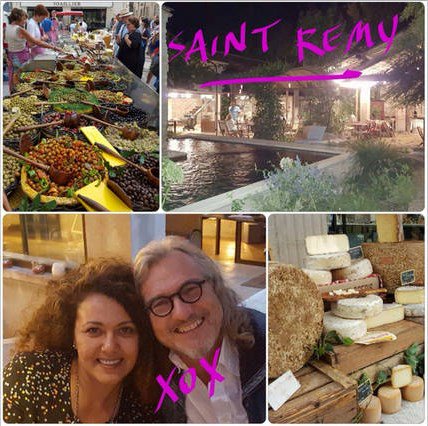 Welcome to Marc and Sarah's house.
There are some places where, as soon as you walk through the front door, the right vibrations invade you.
Marc Féraud's mother used to say to her son "We feel good at home…" when he really took possession of the family building. A place that has not always been the charming house we know today.
No, its past is much more attached to the parades of the various family businesses that have settled there. Or to the strong personalities of the grandparents, parents and grandchildren who walked around these few square metres. So don't be surprised to immediately feel this incomparable and family warmth when you enter Marc and Sarah's property. Wherever you are: the bed and breakfast St Rémy de Provence (which also acts as a holiday home in summer) or their holiday apartments. The place has so many secrets to reveal to you….
Bed and Breakfast Saint-Rémy-de-Provence: an idyllic setting
Looking for charming guest rooms in St-Rémy-de-Provence?
The Provençal land, so dear to the artists Vincent Van Gogh, Paul Cézanne, Marcel Pagnol, Frédéric Mistral and even Pablo Picasso, is a kind of immense painting. Alive. Both rooted in this past depicted by the greatest rightly. And which always makes tourists from all over the world fantasize. But also in the broth of culture, modernity, encounters and celebration that it is still today.
Visit Provence from the guest house
It is in this Provencal setting that Marc and Sarah (he was born in St-Rémy, she was born in Arles) welcome you to their guest house. With the aim of sharing a little of this rich family history with you and guiding you to the most remarkable sites in the area:
the Baux de Provence, its village and its castle,
the Careers of Light,
the archaeological site of Glanum, Les Antiques,
the Alpilles, the Luberon, the Camargue,
the huge olive groves and other vineyards of the country,
the Van Gogh route to the Saint-Paul de Mausole hospice where he stayed…
Your guest house in St Rémy de Provence, 2 steps from the centre
In this frenzy of research that you may have devoted yourself to in order to find accommodation in Saint-Rémy, you have hammered your keyboard with "maison d'hôte St Rémy de Provence", "Gite Provence", "chambre d'hôte Saint Rémy de Provence" or "Hôtel St Rémy de Provence"…
What if you had finally found a place to pack your bags and relax with M&S?
After shaping the entire property for their own comfort, Marc and Sarah have been opening their doors to transients since 2015. A bed and breakfast activity that has become a natural part of their daily lives, in response to the needs of travellers.
It is by arriving through the glass roof that the traveller discovers this unique place where contemporary facilities complement each other with 18th century buildings. Decoration enthusiasts will also enjoy walking from one part of the house to another, to discover an ingenious patchwork of atmospheres and decorative ideas. Large bay windows open onto the garden designed by Marc himself (an internationally renowned landscape gardener). But also a quasi-professional kitchen opened on a long table, a lounge below, decorated with a giant stove, which embraces a large library of ancestral books inherited from the family line. To the rooms with terrace or view of the swimming pool.
To avoid ruining anything in this idyllic setting, escape from your cosy Saint-Rémy-de-Provence guest room and head for the city's historic centre. In 5 minutes by foot: choice restaurants, museums, boutiques, art galleries, Provençal market, bars and terraces await you.
Holiday home: rent our villa entirely with swimming pool
Like the desire to rent a house with a swimming pool in Provence? Sunshine, calm and a place where you would feel at home, while being out of place?
Sarah and Marc invite vacationers to rent their beautiful villa in the summer. A place of sharing par excellence, the guest house, which sees so many people throughout the year, opens its doors to large families and groups of friends to rent itself as a "whole house".
4 rooms from 15 to 50m² are waiting for you. But also 4 bathrooms, as many double beds, a professional kitchen, a natural outdoor swimming pool, a 600m² property and its garden with trees and flowers.
3 holiday apartments for rent
The Sans Souci district where Sarah and Marc live and where their property is located, is also home to 3 beautiful holiday apartments offered all year round located in a 19th century building:
The M&S4 Cosy Apartment: 45m², designed for 4 people.
The M&S6 Spacious Apartment: 100m², designed for 4 people.
The M&S8 Appart'Loft: 120m², designed for 6 people.
3 holiday rentals in Provence for tourists wishing to live in self-sufficiency. Ideal to visit St Rémy serenely, but also to travel to the Camargue, the Luberon or why not to Avignon. The three holiday apartments are 100% designed for couples, families and friends, with all the necessities for the stay:
Wifi,
TV,
Sofas,
Complete kitchens,
SDB equipped.